Brookfield Congregational Church/United Church of Christ
Worship - Sunday @ 10:00 AM
Youth Mission Sunday - Sept.14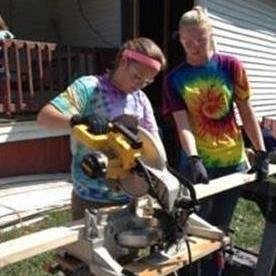 Making a Difference
Our young people will share their summer mission activities. You will be encouraged as you hear the various ways lives were touched, and a difference was made in the lives of many. It is all a part of what BCC is all about as we focus on our theme for the year. "Make a Difference!"
Visit our Twitter page (tab on top of page) for photos of the Apalachia Trip.
Rally Sunday was lively, inspirational and hopeful. Our theme for this program year is "Make a Difference". From our youngest children to senior groups we are growing together in the poweful truth that God has gathered us together to make a difference
in our church, in our community and in our world.

Visit the Photo Gallery for our Rally Day album.
Rally Sunday Audio Files - Share the Excitement
Great Music! Jackie Oakes, Brian Packham, Carver and Sydney Smith here >>>
A Great Children's Message - Cathy Benjamin - "Oh the Places You'll Go" here >>>
A Great Encouragement - Pastor Kathleen - "Get Up and Go" here >>>
Follow us on Twitter
Thinking about visiting BCC?

Check out our photo gallery through the left side menu. Here you will see BCC in action. Reaching out in mission, learning and growing in the faith and celebrating life. Got questions? Call or email - we're looking for you!